Staff
Niclas Jönsson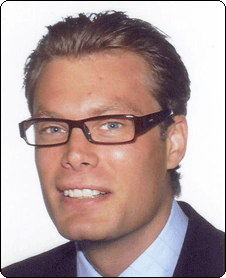 VD
Director of Scandinavian Operations
Co-founder of Scandinavian Sports Services
Has a background within soccer and has played in Swedish clubs as Malmö FF, Kirseberg IF and Höllvikens GIF. Travelled in 1998 to the US to combine studies with sports at Florida Southern College. Helped FSC to Most Wins in School History during a 4 year span together with several individual awards.
Holds two BA degrees: BA in Economics & Finance and a BA in Business Administration from FSC. Further educated at the Copenhagen Business School and graduated with an MBA in International Marketing & Management. As a part of the international MBA degree, Niclas was given the possibility to study abroad were he was asked by FSC to combine MBA studies with coaching the men's soccer team. Coaching meant developing players, be in charge of training, responsibilities for team budget and responsible for recruitment of players and fund-raising activities. Restructuring and development of administrative processes; standardization of processes, improvement of IT and development of a new methodology and structure within the university organization are some of the achieved results from his work.
These improvements were a direct result from previous experiences within the consulting industry. Niclas also has experience from arranging big events, sports travels and lecturing at seminars. Current active involvements are within the bank sector with Swedbank and sports clubs in the south of Sweden.
Morten Jensen
Director of Norwegian Operations
Morten has a background within soccer and has played in Norwegian clubs as Viking and Vidar. Was recruited to Dowling College in 2003 to combine studies with soccer at Dowling College. He helped Dowling to win the schools first ever National Championship National Championship. The same year Morten was voted NCAA Division II Player of the Year, and currently holds several individual records for the school.
Holds a BA degree in Economics & and a MBA in General Management from New York. After finishing his MBA, Morten went back to Norway where he currently works as a Key Account Manager, as well as being involved in SSS, and playing actively soccer.